UCLA Rallies to Defeat BYU in Opener
By Bruin Basketball Report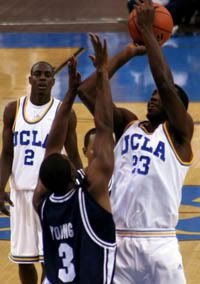 Sophomore Luc Richard Mbah a Moute scored a career-high 24 points and grabbed 11 rebounds to lead the Bruins to an 82-69 victory over the BYU Cougars in their regular season opener.
The final 13-point margin of victory was not indicative of how close a contest it was Wednesday night at Pauley Pavilion.
After UCLA broke to an early 10-2 lead to start the game, BYU came storming back on hot-shooting from the bench. With BYU reserves Austin Ainge, Sam Burgess, and Mike Rose hitting 6 three-point baskets from long distance, the Cougars built a lead as wide as nine points before settling for a three point lead at intermission.
With the Cougars shooting at a sizzling pace and the Bruin's offense struggling to keep up, UCLA was fortunate to only be behind by three at the half.
One reason the Bruins were able to stay close was due to their job in neutralizing BYU big man Trent Plaisted inside. Lorenzo Mata formed a tag team with Alfred Aboya and Ryan Wright and played Plaisted physical inside. The BYU red-shirt sophomore center scored only 4 points in the first half and finished with 7 points on 3 of 7 shooting. He was in foul trouble for most of the game.
UCLA doubled down on Plaisted whenever he received the ball inside and forced him into tough shot attempts or passes out to teammates.
Mata, a surprise starter, was back in the lineup to anchor the paint after missing most of the preseason due to a knee injury. He played 21 minutes recording 4 points, 4 rebounds, and altered a number of BYU shot attempts inside.
At halftime, UCLA Head Coach Ben Howland exalted his team to stay tough and focused in the second-half.
"That's the thing about this team," Mbah a Moute said, "It never panics and it never gives up."
After BYU's Keena Young scored on a lay-up to start the second half, the Bruins began to rally and take control of the game. They went on a 10-0 run to regain the lead at 46-41. Arron Afflalo found Mbah a Moute inside for a two-handed dunk to put the Bruins ahead.
Mbah a Moute finished 7 of 10 from the field and 10 of 13 from the line. He was a frequent recipient of passes from fellow sophomore Darren Collison who finished with a career-high 16 points on 6 of 12 shooting and a career-high 10 assists. More importantly, Collison played under control and was patient running the offense - he committed only one turnover in an up-tempo game.
In addition, the Cougars shooting cooled down in the second half as a result of the law of averages but also due to more aggressive UCLA defense. The Bruins only allowed three shots in the final seven minutes of the game and harassed the Cougars into 22 turnovers with most of them occurring during the Bruins second-half rally.
"Their pressure late in the game didn't allow us to get the ball where we wanted on the floor." BYU Head Coach Dave Rose said. "We weren't able to run our plays like we did earlier in the game."
"BYU is a great team, I guarantee they will be in the NCAA field of 65 at the end of the year, Howland said. "It was almost like a tournament game today, I had to play my veteran players more than I liked today."
Both Afflalo and Mbah a Moute played 34 minutes, Josh Shipp 32 minutes, and Darren Collison logged a game-high 38 minutes. Freshmen James Keefe and Russell Westbrook played only 6 and 3 minutes, respectively, in the game.
"Towards the end of the game I told James (Keefe) and Russell (Westbrook), they'll have their chance to play more minutes in future games," Howland said. "Russell then turned to me and said it didn't matter and that he only cared about winning. It showed me that these guys get it."
Josh Shipp had a solid if unspectacular first regular season game after returning from a hip injury he suffered last season. Shipp scored 13 points and grabbed 4 rebounds, 3 on the offensive end. He looked comfortable out on the floor and didn't appear to have any lingering effects from the injury.
Arron Afflalo scored 9 points on just 3 of 9 shooting. It appeared at times he was not looking enough for his own shot.
"We've talked to Arron about being more aggressive and taking more shots," Howland said. "For us to be successful , we need him to take the first or second most shot attempts in a game."
The victory over BYU last night was a tough win and ultimately was a hallmark Ben Howland-type UCLA win. Whether the Bruins become a more uptempo offensive team or decide to score more off half-court sets, at the end, it's defense that wins games.
(photo credit: Jack Rosenfeld)
Labels: Game Summaries