UCLA Edges Kentucky, Bruin Defense Keys Win
By Bruin Basketball Report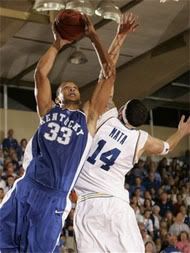 On a night when they had no business winning a game of any magnitude, the Bruins pulled out a 73-68 victory over Kentucky in the semifinals of the Maui Invitational with tough defense.
Junior center Lorenzo Mata recorded a double-double scoring 12 points and grabbing 11 rebounds while given the difficult assignment of guarding Kentucky's big man, Randolph Morris. With the help of double-teams, Morris was limited to just 11 points and was a non-factor for most of the game.
At the outset it appeared UCLA might turn the game into a blow-out early when they outscored Kentucky 26 to 9 in the first twelve minutes of the contest.
But then the shots stopped falling, UCLA players started pressing too hard, and Kentucky roared back into the game reaching halftime only behind by nine points when Wildcat guard Joe Crawford hit a three-pointer at the buzzer before intermission.
UCLA shot a miserable 2 of 10 from three-point distance in the first-half, and then missed nine more in the second-half to finish at an embarrassing 10.5%. To compound matters worse, UCLA shot only 56% from the free-throw line (13-23).
Guard Arron Afflalo had a frustrating night, shooting 5 of 19 from the field including a wretched 1 of 9 from three-point distance. As the misses mounted, Afflalo started to press himself more which not only led to him taking forced shots but it also appeared to take the rest of the team out of its offensive flow.
"My adrenaline was up a little bit but I never lost confidence. Maybe I was a little fatigued," Afflalo said. "I don't expect to ever shoot 1-for-8 on 3s. It was one of those nights."
In addition, both Darren Collison and Luc Richard Mbah a Moute picked up three fouls in the first-half which took them out of their normal aggressive style for a large portion of the game.
Collison had started the game spectacularly scoring 7 points and harassing Wildcat's starting point-guard, Ramel Bradley into early turnovers and foul trouble.
In the second half with the Bruin offensive woes continuing and behind the solid play of freshman guard Derrick Jasper, the Wildcats took the lead 50-48 midway with two Jasper free-throws and it stayed close until the final moments of the game.
With less than a minute remaining in the game, Collison's defensive pressure and then steal of a Bradley mishandle led to a Mbah a Moute dunk to put the Bruins ahead 69-65 with just 27 seconds left in the game. Then Morris forced and missed a shot attempt over two Bruin defenders, Mata rebounded and outlet passed to Collison who found a streaking Arron Afflalo for a game-winning slam.
"I capitalized on it as soon as I saw him fumble it," Collison said.
The Bruin starting point-guard finished the game with 10 points, 7 assists, and three steals.
Mbah a Moute finished with a game-high 18 points including six of the last ten UCLA points in the game despite playing a majority of the second-half with four fouls. He also helped with the doubles on Morris.
"Luc was a tough match-up for them," UCLA Coach Ben Howland said, "He does so many of the little things. Defensively he does a great job rotating and taking punishment, and Randolph Morris punishes you."
In spite of their poor shooting and sloppy play at times; this game should be considered a good character-builder and lessons learned for a UCLA team which fields no seniors and only two juniors.
Defense wins championships.
"We won the game not shooting well," Howland said with pride. "That goes back to our philosophy of playing defense each and every possession."
With the victory the Bruins advance to the championship game against Georgia Tech. The Yellow Jackets rallied from a 16 point halftime deficit to defeat Memphis, 92-85, in their semifinal match-up.
(photo credit: AP)
Labels: Game Summaries