Mata and Keefe Set To Play Against BYU
By Bruin Basketball Report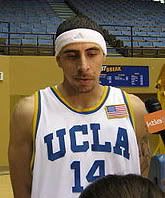 Lorenzo Mata and James Keefe are set to return to the lineup tonight when UCLA faces BYU, Head Coach Ben Howland announced yesterday.
"Lorenzo had his second full practice yesterday since returning from his injury and went through 45 minutes of full-contact," Howland said. "He still gets winded due to his conditioning but his knee seems fine. How much he plays will depend on a number of factors."
Mata's return to the lineup would help solidify the Bruin interior defense. Last season, Mata averaged 1.1 blocks in just 14 minutes a game.
"I have no pain in the knee but it still gets a little sore after playing but its nothing some ice can't take care of," Mata said. "It feels strong and I'm going to work to strengthen it for the rest of the season to keep it from future injury.
Howland did not indicate how many minutes Mata will play against BYU, although the junior center feels he's ready to play as many as 20-25 mintues tonight if needed.
Keefe is also expected to play against BYU. Last week before the Humboldt State game, he and Arron Afflalo collided in practice resulting in Keefe suffering a strained neck and not playing in the exhibition game.
"James Keefe is fine and has been practicing with the team." Howland said. "He's ready to play."
UCLA can use help in the post from both players when they face a quality big man in BYU's Trent Plaisted, a 6'11 245 lb center. Plaisted was MWC Freshman of the Year last season averaging 13.6 points and 6.9 rebounds a game.
"Plaisted can play and start for many teams across the country," Howland said. "He poses a number of problems for us with his size inside."
With Lorenzo Mata returning from injury and joining sophomores Alfred Aboya and Ryan Wright in the middle, the Bruins will have a number of options to use against Plaisted.
"We have to take advantage of our strengths inside which will be quickness and athleticism." Howland said. "Lorenzo gives us the most size and presence inside. He's 6'9 but probably closer to 6'10 in shoes."
Tip-off for tonight's BYU game at Pauley Pavilion is 7:30PM.
BBR Notes: Sophomore forward Josh Shipp gleamed with pride when talking about his brother Jerren Shipp, a freshman at Arizona State, who scored 23 points against Northren Arizona on Monday.
"I am extremely happy for Jerren." Josh Shipp said. "When family does well - it's always a good thing. We talked a lot this summer and played together until he left for school. I'm really proud of him."
Labels: Bruin Player News (Current)