Dragovic Ruled Ineligible For First Ten Games
By Bruin Basketball Report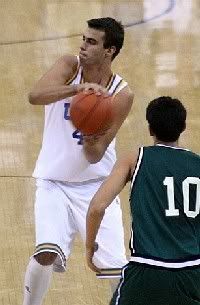 Nikola Dragovic has been ruled ineligible to compete in UCLA's first ten regular season games this season, Head Coach Ben Howland announced at the Bruin's weekly news conference.
The NCAA ruling is a result of Dragovic competing on a Serbian team, Mega Ishrana, which was determined to be a professional team when it was recently found a player on the roster had signed a professional contract while on the team with Dragovic.
Per NCAA regulations, a player is allowed to play in games against professionals and maintain their college eligibility, but it is forbidden to play on the same team with a professional player. Although, Dragovic never received compensation for playing, his association with this team led to the infraction.
"Nikola and his father had always planned for him to go to college and always made sure they did things the right way to maintain his eligibility." Howland said. "They were unaware anyone on the team had accepted money. This is unfortunate, but we will comply with the NCAA ruling."
Since Dragovic played ten games with this Serbian team, the NCAA ruled he should be ineligible for ten collegiate regular season games.
"We were expecting Nikola to play minutes this season," Howland said. "He is one of our top shooters and best passers on the team."
With Dragovic unavailable to play, the team is expected to adjust player rotations in upcoming games. Coach Howland stated Russell Westbrook may play some two-guard; in addition, Luc Richard Mbah a Moute may move down at times to the small forward position once Lorenzo Mata returns to action in a couple of weeks.
Dragovic will still be able to practice with the team; however, he will not be allowed to accompany the team on road games and will miss the team trip to Maui.
"I am disappointed and very frustrated I will not be able to play for ten games," Dragovic said. "But I will continue to work hard and to improve my play in practice - especially my defense."
The young Serbian is allowed to play in the upcoming exhibition match against Humboldt St., but Howland is expected to minimize his minutes in order to give other players time on the floor in preparation for the start of the regular season against BYU on November 15.
Dragovic will be reinstated in time for the Bruin's eleventh game of the season when they face Michigan at Pauley Pavilion on December 23rd.
BBR Notes: Junior center Lorenzo Mata is expected to return to action this Friday depending on how his knee responds to treatment and increased activity over the next few days. He has already begun participating in non-contact walk-throughs with the team. Mata is expected to be back in time for the BYU season opener.
(photo credit: Jack Rosenfeld)
Labels: Bruin Player News (Current)