Collison's Nine Steals Leads Bruins Over 49ers
By Bruin Basketball Report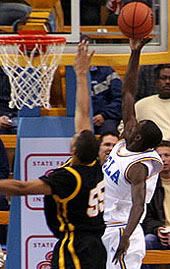 Darren Collison had 9 steals and Josh Shipp scored a career-high 24 points to lead top-ranked UCLA to an 88-58 rout of Long Beach St. before a crowd of 8,428 at Pauley Pavilion.
The Bruins (5-0) built a 14 point lead midway through the first-half when it appeared they eased off the throttle and lost some intensity and focus. Rather than working for good shots off their offensive sets, players began settling for outside jumpers which allowed Long Beach St. back into the game.
The 49ers' comeback was also sparked by strong offensive rebounding, primarily by former Centennial HS star Sterling Byrd, to cut the Bruin lead to only two points before UCLA's Arron Afflalo hit a three-pointer to send the Bruins into halftime with a five point lead, 41-36.
Long Beach St., a team with no starter over 6'6, out-rebounded the Bruins 25-14 in the first half and were led by Byrd who finished with a game-high 16 rebounds. For the game UCLA was out-rebounded 45-38.
UCLA Coach Ben Howland expressed his displeasure over the team's first-half performance during halftime.
"I explained to them that if we don't come out and play hard and play passionately, we're going to be at risk of losing," Howland said.
"There was a lot of hoopla surrounding the ranking," Afflalo said. "We came out as if they weren't going to come after us."
The Bruins came out in the second-half much more focused on defense and on getting the ball inside. UCLA ratcheted up the defense causing four quick turnovers, while on the offensive end, the first five UCLA baskets were all inside the paint. They outscored the 49ers 15-0 in the first five minutes of the second-half to put the game away.
Collison's career-high 9 steals were only two short of Tyus Edney's team record of eleven. For the game the Bruins recorded 15 steals and forced 23 Long Beach St. turnovers. Alternatively, the Bruins committed only 10 turnovers. Collison also finished with 10 points, 6 assists and just 2 turnovers in 29 minutes.
"We played like we were tired from the Maui trip. Three games in three days was very difficult." Howland said. "With all the traveling we haven't had much rest but we came out strong in the second-half."
With Long Beach St. not playing particularly good defense nor guarding the wings closely as other Bruin opponents have done this season, UCLA had a number of wide open looks from the outside. The Bruins shot 62.5% from three-point distance. Shipp was a sizzling 6 of 9 from long distance while also recording 7 rebounds and 5 assists.
"I was surprised to be that wide open," Shipp said. "I feel like I do a lot of things every game. I don't base my performance on just shooting."
Afflalo finished with 20 points on 8 of 15 shooting while freshman Russell Westbrook hit three consecutive three-point shots from the far corner to finish with 11 points in just eleven minutes of play.
Luc Richard Mbah a Moute scored 7 points and had team-high honors in rebounding with 11 in the game. Playing somewhat under the weather, center Lorenzo Mata played only 16 minutes recording just 1 point and 4 rebounds.
The Bruins shot 44.8% from the field and held the 49ers to just 36.5% shooting which brought smiles to the coaching staff. Last season, the Bruins led the Pac-10 in field-goal percentage defense limiting opponents to below 40% shooting but this season teams have been shooting over 48% against them.
"We need to have more of the same type of defensive effort we put forth in the second half." Howland said. "We are last in the Pac-10 in field-goal percentage defense so far this year. We need to improve our defense before we start Pac-10 play."
(photo credit: Jack Rosenfeld)
Labels: Game Summaries