Afflalo Leads UCLA Over Chaminade
By Bruin Basketball Report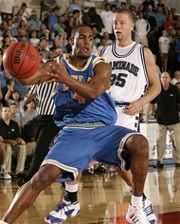 Arron Afflalo scored a game-high 25 points to help lead the UCLA Bruins to an 88-63 win over Maui Invitational host Chaminade in an opening round game.
The Bruins raced out to a commanding 17-2 lead after the game's first five minutes with Afflalo scoring 11 points during the span. The junior guard finished the contest making 10 of 14 from the field including 5 of 7 from three-point distance.
As a team, UCLA shot 56.% from the field and were 11-24 from the three-point line for a sizzling 45.8%.
Sophomore Darren Collison had another productive game directing the Bruin offense scoring 15 points on 6 of 8 shooting . As he did against BYU, Collison patiently ran the half-court sets and pushed the ball up the court effectively to create easy transition baskets for teammates, Collison finished with 7 assists.
On the defensive end, Collison struggled at times defending Chaminade's All-Conference point-guard Zack Whiting who repeatedly used his size advantage and posted up Collison on the block. Whiting finished with 14 points and 9 assists.
Normally, UCLA Head Coach would have given the defensive assignment of guarding the opponent's best offensive guard to Arron Afflalo, but decided to give Collison the chance to defend a bigger guard. There are a number of upcoming opponents, including Memphis, which will employ bigger backcourts against the Bruins. Collison did have 4 steals.
Sophomore forward Josh Shipp chipped in 16 points in the winning effort. Although he did not shoot well from the perimeter, going 0 of 4 from three-point distance, he moved extremely well without the ball, especially along the baseline, scoring all his points around the basket.
Center Lorenzo Mata grabbed 6 rebounds and contributed 8 points on 4 of 4 shooting in just 19 minutes. Both Alfred Aboya and Ryan Wright struggled in the game recording just 1 point and 3 rebounds in a combined 22 minutes of play. With Mata still on the mend and only able to play limited minutes, UCLA will need much better efforts from Aboya and Wright, especially in upcoming tournament games against tougher opponents.
The UCLA offense struggled somewhat when Chaminade switched to a 1-3-1 zone midway through the first half, but sophomore guard Michael Roll helped the Bruin cause with two key three-pointers. Roll finished with 10 points.
Freshman James Keefe played a solid 12 minutes grabbing 5 rebounds including two on the offensive end. He was particularly effective stationed at the high post swinging the ball to the open man when the Silver Swords went into their zone defense. Keefe has great basketball IQ and fundamentals, and it wouldn't be surprising if he earns more minutes on the floor as the season progresses.
The Bruins used a swarming half-court defense to stifle Chaminade into just 20 first half points and 33% shooting. But the Silver Swords did much better in the second half scoring 43 points mainly on three-pointers in transition.
Coach Howland has been concerned about his team's transition defense in the early going, and the Bruins will need to improve it immediately since they face an uptempo Kentucky Wildcats team on Tuesday in their second game of the tournament.
Kentucky earned the chance to meet UCLA when they held off DePaul for a 87-81 victory earlier in the day at Maui.
"Both our schools have a lot of tradition," UCLA guard Arron Afflalo said. "They're two of the winningest teams in college basketball. A lot of our fans are from the Wooden era, and a lot of their fans are from throughout their history. Both schools are used to winning, so it's very important, let alone we're playing for (a berth in) the championship of the Maui classic."
(photo credit: AP)
Labels: Game Summaries