Afflalo and Mbah a Moute Naismith Trophy Candidates
By Bruin Basketball Report
UCLA junior Arron Afflalo and sophomore Luc Richard Mbah a Moute were named as preseason candidates for the Naismith Trophy, the Atlanta Tip-Off Club announced. The Naismith Trophy is presented annually to the men's and women's players of the year.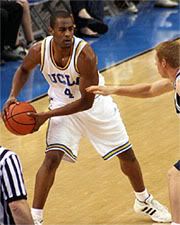 A Top 50 list was compiled by the Atlanta Tipoff Club's Board of Selectors, comprised of leading basketball journalists, coaches and administrators from around the country. The board based its pre-season criteria on player performances from last season and expectations for the 2006-07 season.
"It's still very early in the process, but there seems to be more parity among this year's pre-season candidates," said Gary Stokan, Atlanta Tipoff Club president. "There are just a lot of excellent players on this list. This year's Naismith Trophy winner will continue the tremendous legacy of some of the most outstanding players in college basketball history. Now it's in the players' hands."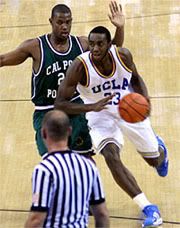 In January, the Naismith Trophy Voting Academy will narrow its pre-season list to the Top 30 players in the nation. Those players, and others who distinguish themselves throughout the season, will be eligible for the final ballot in March. Beginning in mid-February, CBS' "Cingular at the Half" will feature a weekly Naismith Trophy update highlighting the players in contention. In April, the Naismith Trophy winner will be recognized at the NCAA Men's Final Four in Atlanta.
J.J. Reddick of Duke won the Naismith Trophy in 2005-06.
Previous UCLA Bruin men's basketball winners of the Naismith Trophy were: Lew Alcindor '69 (inaugural winner); Bill Walton '72,'73,'74; and Marques Johnson '77.
Last month, both Afflalo and Mbah a Moute were also named preseason candidates for the Wooden Award.
(photo credit: Jack Rosenfeld)
Labels: Bruin Player News (Current)