Seasons Change, And Howland Eases Pain
By Bill Dwyre
Los Angeles Times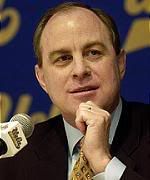 Good news for UCLA fans: It's almost basketball season.
Even better news: Ben Howland is still around.
If you are Bruins Athletic Director Dan Guerrero and are being lambasted about your football program, being run by your hire, you can smile, knowing that, were you allowed to answer the critics, you could point out that, in the school's two big sports, you have batted .600.
Sure, Karl Dorrell still has a chance to turn things around in football, although the odds seem better that his UCLA legacy will, one day, be found by Googling the phrase, "Luck of the Irish." Poor Karl. When he lost one for the Gipper the way he did, followed by Saturday's collective no-show against Washington State, his future appeared to be golden doomed.
Guerrero knows, as do most Bruins fans, that basketball is what counts in Westwood, say to a 60-40 ratio. That's why the athletic director can survive dark days in Pasadena, as long as he gets bright nights in Pauley. The Terry Donahue years, the early Bob Toledo years, were frosting on the Bruins' sports cake. Fun stuff. Run off long winning streaks against hated USC — in football!
But now, Uncle Pete Carroll has arrived at that school over on Figueroa, the L.A. sports planets are back in alignment and it's time to follow the bouncing basketball, as blessed Bruins fans were able to do last season all the way to the NCAA final.
That's why Guerrero might consider burning a candle next to Howland's picture these days.
Howland is not an ordinary basketball coach. Well, actually, he is. He just gets it better than many of his peers and is more solid in his approach.
In many ways, he's tough to write about. He is not flashy. There are none of the wow moments that play so well on "SportsCenter." He is in Hollywood, but he's not Hollywood.
He spent 13 years as an assistant coach before he even got a sniff at the big-time, if you can call Northern Arizona the big time. Then he got to Pittsburgh, quickly made the Panthers one of the best college basketball programs in the country, and left it all, including a cupboard so full that Pittsburgh has continued as a powerhouse, to coach at UCLA, where it took him all of three seasons to get to the NCAA title game.
It was amusing during his first season here to hear local fans call talk-radio shows with the insight that the Bruins finally had the sense to hire a hard-nosed guy from the East who could teach "soft" UCLA players how to play defense.
"You need a guy who has been around the coal mines, who knows what it's like to have it tough," one nitwit with too much time on his hands theorized to Doug and Joe one day.
Howland is from Santa Barbara. But the guy was right about one thing. There were days when Howland did have it tough, when it was foggy at the beach and the temperature slipped into the 60s.
Howland was a great high school player who got to college at Weber State and became like so many other great high school players — ordinary. So he made his mark by playing tough defense, for which he won several honors.
Playing defense demands a strong work ethic. There have been Michael Jordan and Jerry West and Bill Russell and 56,000 other defensive standouts who had none of the athletic skills of the three aforementioned, but the same work habits.
If you want a defining moment in Howland's UCLA tenure, it would be last spring's Gonzaga game in the tournament. It would have been nearly impossible to make up the deficit the Bruins did — Gonzaga led by 17 at one point — had they not chased All-American Adam Morrison all night with the kind of defensive pressure, most of it by Cedric Bozeman, that is a nightmare for a shooter.
At a key moment, when Morrison should not have shot but was so frustrated that when he glimpsed daylight he couldn't resist, he let fly and missed. It got the Bruins one more key possession. It was classic Ben Howland basketball.
Donny Daniels, Howland's top assistant, who left a head-coaching job at Fullerton to join Howland at UCLA, says the most impressive thing about his boss is that "he has a plan, and he definitely sticks with it." To do that, Daniels adds, you have to have "integrity, passion and a work ethic."
Howland has also quickly seen the big picture, and embraced it. Its symbol is there at most home games, sitting a few rows up in the bleachers just to the right of the Bruin bench: John Wooden, 96, the heart, soul and legacy of Bruins basketball.
"I've never once looked down there and felt anything but 100% support," Howland says.
Howland also says that he and Wooden talk more about life than basketball, although he is proud of one basketball moment with Wooden.
"Last year, when we beat Cal," he says, "I called him and he said he had watched. Somewhere in the conversation, he said he liked the way we moved the ball. Wow! You know how that feels, to have John Wooden say something like that to you?"
Howland has begun a tradition he hopes to continue, an annual get-together at his house. This year, it was the Saturday of the Notre Dame football game. The invitees were, and will continue to be, the past and present of Bruins basketball and sports lore. The theory is that Bill Walton sits with Arron Afflalo., Mike Warren with Darren Collison, etc. There are the old-timers, Eddie Sheldrake and Jerry Norman, even Rafer Johnson. And there is the recent past, Mitchell Butler and Tracy Murray. Wooden missed this year but says he will attend as often as he can.
"They need to know where their past is, what the legacy is," Howland says. "Think how it affects an Arron Afflalo to sit and talk with Keith Erickson. I can walk by and point out he is talking to somebody who played 12 years in the NBA. That gets their attention."
The Bruins open with Brigham Young on Nov. 15. Howland says BYU is good, that several lead-in games to the Pacific 10 Conference season will be tough.
"They always come in pumped to play us," Howland says. "Pumped, I like. But pumped and good … that's tougher."
Not to worry. It's almost basketball season in Westwood. Time for Dan Guerrero to smile again.
(reprinted with permission)
Labels: Coach Ben Howland