Ryan Wright Ready to Step Up Game
By Bruin Basketball Report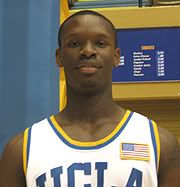 Ryan Wright arrived on the Westwood campus last year as the highest regarded basketball recruit from among a solid UCLA 2005 class.
It was hoped at the time Wright might provide some needed depth at the power forward and center positions. A season earlier, an undersized senior Dijon Thompson started at power forward and the Bruin's two 7-footers, Michael Fey and Ryan Hollins, had completed unremarkable junior campaigns.
However with the emergence of fellow freshmen Luc Richard Mbah a Moute and Alfred Aboya and improved play at center by Lorenzo Mata and Hollins, Wright had difficulty finding minutes in games, especially towards the end of the season.
Wright averaged 9.8 minutes in 31 games last season averaging 2.4 points and 1.5 rebounds per contest. Moreover, his playing time was limited to just 11 total minutes during the NCAA tournament.
Although Wright had a solid game against Nevada in the Wooden Classic recording 8 points and 8 rebounds, he never seemed able to get his game on track.
Now with one season under his belt and a long summer of hard work behind him, a leaner and more sculpted Ryan Wright feels he is ready to contribute more to the team this year.
"After the season ended, I felt strong but thought I needed to improve my conditioning." Wright said. "I focused my training all summer on improving my conditioning by doing a lot of running and sprints."
"I feel great right now." Wright continued. "I've lost 10 pounds since last season while maintaining my strength."
Wright, a native of Mississauga, Ontario, spent a few weeks this summer back at home to visit with family and continue his training. While in Canada, he had the opportunity to train with the Canadian national (under-20) basketball team.
Upon his return back to Los Angeles, Wright played in the Say No Pro-City basketball league and worked out with teammates on campus for the rest of the summer.
"Last season was a great learning experience. I learned you have to always be on your game." Wright said. "At UCLA we're playing against the top competition in the country every game - you can never take a possession off."
With Lorenzo Mata out for four to five weeks from knee surgery, the Bruins will need big contributions from Wright - and the 6'8 sophomore is ready for the challenge.
"I want to help the team by being the best player I can possibly be this year." Wright said. "It's time for me to step up."
Labels: Bruin Player News (Current)