Nearly 96, Wooden Still A Driving Force
By Steve Bisheff
Orange County Register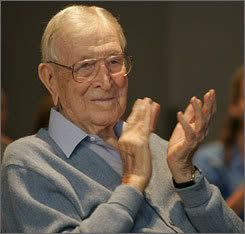 It shouldn't be surprising that John Wooden, still in remarkably good health, is cruising toward his 96th birthday Saturday.
What is surprising is that he still is cruising - literally. "Oh yes, I drive on occasion," the legendary former UCLA coach said. "I'm still pretty good at it, too."
Somehow, the image of Wooden out in the street near his Encino condo doing wheelies in that trusty 1994 Ford Taurus seems a bit of a stretch.
But nothing this wise, dignified gentleman does now should shock anyone. No matter how many times you're with him, he always leaves you thinking he's unlike anyone you have met along the busy road of life.
On my most recent visit, I brought my son, Greg, a basketball coach and teacher in Calabasas, figuring it was time he listened to a few pearls of wisdom from the finest basketball coach of all time.
Like everyone else I have taken to Wooden's condo, Greg was transfixed. He asked questions, he laughed heartily at one of Wooden's jokes he couldn't wait to repeat later to friends, and he generally squeezed every ounce he could out of the experience.
Later, I asked him what his overall impression was.
"You kind of come away feeling better about yourself," Greg said. "He looks at the good in everything. There's nothing negative about him."
It is remarkable how Wooden transcends generations. The young, the old, the in-between, it doesn't matter. He somehow manages to relate to them all.
John Vallely knows. A former Corona del Mar and Orange Coast College star, Vallely transferred to UCLA and became one of the better shooting guards of the Wooden Era.
He played on two national championship teams, one in 1968-69, in then Lew Alcindor's senior season, the other in 1969-70, Sidney Wicks' breakout year.
Since then, Vallely, 58, has had his luck take a much harsher turn. He and his wife, Karen, suffered through every parent's nightmare, the loss of a child. Their daughter, Erin, died at 12 after a courageous, two-year fight with cancer.
As if that hadn't been gut-wrenching enough, then Vallely was diagnosed with cancer. He has been battling non-Hodgkin's lymphoma and has had to undergo two stem cell transplants.
In one, he received DNA from an unknown German donor. Upbeat Vallely immediately fantasized that the gentleman was related to NBA star Dirk Nowitzki.
"My jumpshot might improve!" Vallely e-mailed his friends.
"That's all fine, John," wrote back Kenny Heitz, his old teammate, "but does the German guy pass?"
His former backcourt mate's humor helped, but at one point Vallely acknowledged he had become understandably despondent over his situation. So he reached out to an old friend.
"I called Coach Wooden to say, `I had lost faith. I had no hope,'" Vallely said. "Within a second, this wise man responded, `be patient, John. Your faith will return.'"
His coach's soothing reassurance proved true. His faith did come back.
Vallely recently was inducted into UCLA's Sports Hall of Fame, and although he loves to talk about his playing days, most of his conversation with a reporter centered on the man who helped shape him as an athlete and a person.
"His greatest joy is giving to others," he said of Wooden. "I really thinks he gets energy from doing it."
Like so many of Wooden's former players, Vallely tries to visit the coach as often as he can, whether it's joining him for breakfast at Wooden's favorite Encino coffee shop or just sitting around the tiny condo that is like a basketball museum.
"If you had a chance to play for this man, you realize you have a friend and mentor for life," Vallely said.
"What he taught was the essence of relationships and competition. It applies on the basketball court and, more important, it applies to how you live your life."
It is no wonder Wooden seems to receive a special honor every time he turns around. Already a school in the San Fernando Valley has been named after him. Next will be a post office.
As part of his 96th birthday celebration, the John Wooden Post Office in Reseda, near his daughter Nan's house, will become a reality.
Congressman Brad Sherman sponsored the legislation that won congressional approval, and President Bush signed the bill in August.
The official ceremony will be held Saturday morning in Reseda, where politicians, friends, family and many of his celebrated former players will gather to again pay tribute to this extraordinary man.
It is set to begin at 10 a.m., but like most of these functions, the festivities tend to be less punctual than the coach prefers. This man who always demanded his players be on time believes in practicing what he preached.
So expect Wooden to be among the first to arrive Saturday.
Especially if he decides to drive there himself.
(reprinted with permission)
(photo credit: AP)
Labels: Coach John Wooden