BBR: UCLA Bruins 2006-07 Basketball Preview
By Bruin Basketball Report
For most college basketball programs, reaching the championship game of the NCAA finals would be considered a banner year. However in Westwood, a team doesn't have a banner year, it only hangs them alongside the other eleven already at Pauley Pavilion.
And so goes the lofty expectations of UCLA Bruin basketball fans.
However, for those with more realistic expectations (i.e. fans who still aren't wearing Angels Flight bell-bottoms and silk shirts from the 70s), the 2006-07 UCLA Bruins are favorites to win their second consecutive Pac-10 conference championship and earn a ticket to the NCAA tournament, where as we learned last season - anything can happen.
The Coach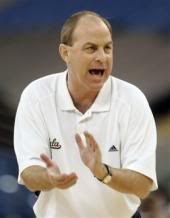 In three short seasons, UCLA Head Coach Ben Howland has returned the program to its rightful place among the elite of college basketball.
After recording 11-17 and 18-11 seasons in his first two at UCLA, Howland led the Bruins to an astounding 32-7 campaign in 2006 and a trip to the Final Four, heights even Howland had never reached as a player or coach.
One of many things Howland does well as a coach is he matches a team's style of play with its personnel. Last season with Jordan Farmar at the point and a strong defensive team, the Bruins played more of a half-court game and grinded out victory after victory.
This season with ultra-speedy Darren Collison at the point and Arron Afflalo and Josh Shipp on the wings, the Bruins are expected to run more frequently.
How much more? Both coach and players are saying they definitely plan to run more, but they also sing the chorus that defense wins championships.
While college basketball experts point out that NCAA champions typically score over 70 points a game - the Bruins averaged 67.7 points last season, Howland is quick to counter that NCAA champions usually hold opponents to below 40% shooting.
Taking this into account, the Bruins will run more this season, perhaps not as much as a Duke team but somewhere in between. It took Howland three seasons to instill a sense of toughness and defensive intensity into his Bruin teams - its highly unlikely he will ever move far away from this base.
Overcoming the Loss of 3 NBA Players
To put simply, the Bruin's success last season was a result of a highly talented roster. Even legendary Coach Wooden has always maintained his success was based upon first and foremost having talented players.
Of course, Coach Howland and his elite staff had much to do with the team's success, but it always appeared, despite a number of injuries to key players, the Bruins always seemed to have someone ready to step in to do the job.
Lose Josh Shipp your third leading scorer? Insert fifth-year senior Cedric Bozeman. Lorenzo Mata breaks a leg? A light bulb appears above Ryan Hollins head and he becomes MVP of the Oakland Regional.
One look at NBA opening night rosters finds Jordan Farmar, Cedric Bozeman, and Ryan Hollins all on NBA rosters - a testament to the level of talent on the Bruins last season and the fine job Coach Ben Howland and his assistants did in developing the players.
Despite the loss of key players, the 2006-07 Bruin team has reloaded with holdover stars who have improved their game over the summer and freshmen who should contribute this season.
The Freshmen
Three scholarship players, James Keefe (Santa Marguerita), Russell Westbrook (Leuzinger), Nikola Dragovic (Serbia-Montenegro), and a walk-on Mustafa Abdul-Hamid join the Bruins as freshmen this season.
James Keefe, a McDonald's All-American, is a solid, fundamentally sound player who should see plenty of minutes this season at the four spot. Keefe is the type of player who finds as much joy in setting a solid pick or hauling down a rebound as he does in shooting the ball.
During summer league play, while his teammates were shooting as soon as they touched the ball, it was Keefe doing the yeoman's work to open up those offensive opportunities.
At this point of his development, Keefe is more effective facing the basket and will give bigger opponents problems guarding him away from the basket due to his better than average ballhandling skills.
At 6'8 220lb, Keefe should be able to handle most power forwards defensively on the block, but may have problems with the Jon Brockmans at this level. Although not an outstanding shot-blocker, he plays excellent position defense and alters shots with his length and extension.
Keefe may be able to play center at UCLA some point in the future but he will need to add bulk to his frame and improve his offensive game in the post.
Russell Westbrook has played well during preseason practices and has impressed Coach Howland with his defense and his vocal presence on the floor.
"Russell does a better job calling out instructions on the floor especially on defense than his teammates ," Howland said, " and he's only a freshman."
Westbrooks defensive abilities and ballhandling skills at the point has given Howland the confidence to anoint him the primary back-up point-guard to start the season.
A 6'3 190lb guard, Westbrook shoots well from beyond the three-point arc, and also knows how to split the seams to finish at the basket. During summer league, Westbrook showed an impressive ability to hang in the air and double-pump over bigger players at the rim.
It would not be a surprise to find both Collison and Westbrook in the backcourt together to give the Bruins a change of pace on offense, similar to what the they did last year with Collison and Farmar.
Although as good as Westbrook may be offensively, ultimately, it will be his attention and effort on defense that will earn him minutes with Coach Howland.
Nikola Dragovic, a 6'8 forward, comes to Westwood with extensive international experience. He is an outstanding outside shooter, and although not quick, he has the savvy and size to get off most of his shots over most players from the perimeter.
The biggest limitation for Dragovic this season will be his defense. Can he defend? In certain match-up situations against smaller teams, he may guard the opponent's power forward but in most cases he will be asked to guard a smaller and quicker wing player.
"Nikola is one of the most erect standing players I've ever coached," Howland said. "We've been working with him to get lower on both offense and defense to make him quicker."
If Dragovic can improve his defense this season he may be a big factor for the team. If he doesn't, he may have difficulty finding minutes on the floor - especially with Shipp, Afflalo, and Roll able to fill minutes at the wing.
Walk-on point-guard Mustafa Abdul-Hamid is a solid player who can step in to give quality minutes if either Collison or Westbrook are injured. Abdul-Hamid is a good insurance policy to have considering the concerns over depth at the point during the summer.
Returning Players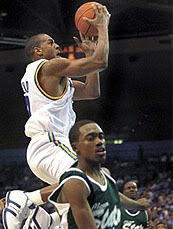 Arron Afflalo returns for his third campaign at UCLA and the Bruins are happy to have him back. Afflalo was the team's leading scorer (15.8) shooting 46% from the field last season.
He is the heart and soul and emotional leader on the team. He starts the year as a second-team preseason All-American and Wooden Award candidate.
His reputation as a defensive stopper is nationally known, and as Coach Howland's first UCLA recruit, Afflalo's intense effort on defense sets the perfect tone for the team.
Without Cedric Bozeman this year to help guard the opponent's top offensive option, Afflalo will be tasked even more this year on defense. But for those who have watched this young man for the last three years, he is up for any challenge.
Josh Shipp returns to the team as a sophomore after receiving a medical red-shirt for a hip injury which caused him to miss all but four games last season.
After playing himself into shape during the summer, Shipp returns to the team in solid form and with an improved shot. Howland has been pleased with the way Shipp has shot from the perimeter, and more importantly likes the fact Shipp has improved his ability of attacking the basket from the wing.
Despite standing 6'5, he is hands down the Bruin's best finisher around the basket. He knows how to use his body in heavy traffic to create his shots.
Many of the younger UCLA players look up to Shipp as a leader, and he can help fill that role on a team which is void of any seniors this season.
Howland is a percentage coach. He knows the statistics from each game and practice. Not surprisingly when asked where he thought the offense would come from this season, he answered, " I expect Arron Afflalo, Josh Shipp, and Michael Roll to take most of the team's shots this season."
Most would agree about Afflalo and Shipp but certainly some might be surprised by Howland's mention of Michael Roll as the third main scoring option.
However, Roll slimmed down and worked his body over the summer and has impressed Howland with his confidence and accuracy of his outside shooting. With team managers meticulously keeping stats during practice, Roll is shooting over 60% on three-pointers in team scrimmages.
Although Roll still has difficulty creating his own shot off the dribble, his pin-point shooting will open up the inside and break zones, in addition, he is one of the better Bruins in feeding big men in the post.
Roll did an adequate job on defense last season, and with his slimmed body and added quickness, his defense should be improved.
Sophomore Darren Collison inherits the starting point-guard spot. Last season, his presence in the backcourt provided the Bruin offense with a change of pace with the team running more. .
During the preseason, Howland has been urging Collison to push the ball up the court after each possession, including after made baskets. However at some practices, Collison has been found walking the ball up the court to Howland's dismay.
Collison's effectiveness on the team last season was due to the quickness he brought to the floor. In order for the Bruins to excel this year, the team will need maximum intensity from Collison on both offensive and defensive end. Howland considers Collison to be one of the best on ball defenders he has ever coached
Although he is only one piece to the team's puzzle, as Collison goes this season so will the Bruin's fortunes.
Luc Richard Mbah a Moute is no longer a secret. After a sterling freshman campaign and NCAA tournament, Mbah a Moute was named a third-team preseason All-American.
Over the summer, Mbah a Moute worked on his ballhandling and shooting skills to enhance his game. However, Coach Howland has noted that the team needs more of what Mbah a Moute provided last year - All-American hustle and rebounding effort.
Howland feels Mbah a Moute is one of the team's best low post defenders. With few big men on the team, Mbah a Moute's defense and rebounding at the four spot will be a key to the team's success.
Junior Lorenzo Mata may return from his knee injury sometime after the BYU regular season opener and possibly by the Maui Tournament. Mata is the Bruins best shot-blocker and a good defensive rebounder.
With Ryan Hollins lost to graduation, Mata is the Bruin's biggest player at 6'9 and will need to be a strong defensive presence in the post. The Bruins need Mata to stay healthy if they expect to make a deep run into the tournament.
Alfred Aboya has been very active in preseason practices. After being limited last season by a knee injury, Aboya is once again healthy and ready to wreck havoc in the paint and on the glass.
Aboya's biggest assets are his toughness, athleticism and non-stop activity on the floor, although it can lead to foul trouble, as it did at times last season, his presence on the court is invaluable.
He is not a strong low post scorer but will get his fair share off offensive rebounds and hustle points. With Mata hurt to start the season, Aboya will likely get the call to fill most of the minutes in the middle.
Ryan Wright has the chance for a break-out this season. If he can learn to stay within the flow of the offense, play solid defense, and rebound, he should earn himself much playing time.
Despite playing limited minutes last season, Wright demonstrated he may very well be the best low post scorer on the team. At this point, the Bruins lack a reliable low post scoring option, if Wright can assimilate himself on the floor better, he may play a big role on the team this season.
With the departure of Farmar, Hollins, and Bozeman, the 2006-07 UCLA team is a much different team. They are quicker yet smaller team this year. A better outside shooting team yet not as solid defensively.
How it will turn out after the ball is rolled onto the court, we will find out soon. The Bruins play their first exhibition game this Thursday against Cal Poly Pomona.
Finally, it's time for UCLA Bruins basketball!
Read BBR Preview from the 2005-06 season
(photo credit: AP)
Labels: Team Previews