Tribal Officials Honor Wooden
By The Associated Press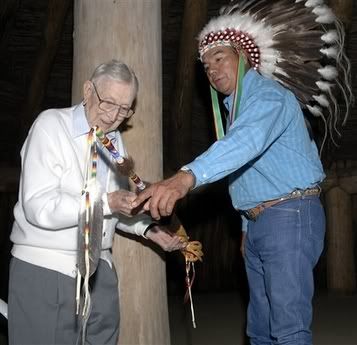 Tribal officials presented former UCLA head basketball coach and Hall of Famer John Wooden with a ceremonial carved stick at the historic On-A-Slant Village where Meriwether Lewis and William Clark visited more than 200 years ago.
Wooden was in Bismarck to speak at a University of Mary session on leadership. The speech coincided with the start of the United Tribes Technical College International Powwow.
Wooden said he had been to North Dakota in 1927, as a hitchhiker helping to harvest wheat.
"It's an honor to be here," he said.
Three Affiliated Tribes Chairman Tex Hall joined former Louisiana State coach Dale Brown, who grew up in North Dakota, as well as tribal member Amy Mossett, a coordinator of Lewis and Clark bicentennial events, and others in an earth lodge ceremony honoring Wooden at the historic site Wednesday.
The ceremony included traditional dances and the burning of sagebrush.
Hall has worked to set up basketball camps for young Indian players. He and the others said Wooden inspired them as a quiet man of honor.
(BruinBasketballReport.com)
(photo credit: AP)