Former Bruin Tracy Murray Prepares For Next Move
By Ken Wong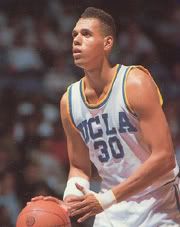 Tracy Murray recently spent time with Bruin Basketball Report (BBR) to reminisce about his playing career and discuss his plans for the future.
After spending the last two seasons playing basketball in Greece, former UCLA Bruin great Tracy Murray (1989-1992) is back in the U.S. and ready to move on with the next phase of his life.
Murray decided earlier this year to return home in order to spend more time with his baby boy and family and to pursue opportunities beyond playing basketball professionally - and he does not regret his decision.
"Whenever I look at my baby son (now two-years old)", Murray said, "he reminds me it was the right time to retire."
Upon returning, Murray went back to UCLA, where he left early for the NBA, and recently graduated with a BA degree in History.
"I had promised my parents when I left school early for the NBA I would come back here and get my degree." Murray said. "I'm glad to be able to complete this chapter of my life."
Days In Westwood

In three seasons at UCLA, Murray finished with 1,792 career points and an 18.3 points per game average, which respectively rank 9th and 5th overall in UCLA history. For a player known for his outside shot, he finished his collegiate career shooting with an impressive 50% (FG%) from the field. Murray also averaged 6.4 rebounds a game.
Murray came to UCLA from Glendora High School where he averaged 44.3 points per game his senior season and finished his high school career as California's all-time leading scorer with 3,053 career points.
Not surprisingly, Murray was highly sought after by many elite college programs.
"My final five school choices were UCLA, UNLV, Louisville, Villanova, and New Mexico St.," Murray recalled. "New Mexico St. had said I could come in and do whatever I wanted but they were the long-shot of the group. I was interested in Louisville because my cousin, Allan Houston, had earlier committed there but then changed his mind and went to Tennessee instead. UNLV was counted out after they went on probation and Villanova was just too far from home."
Murray ultimately chose UCLA over the other schools because it was close to home and his family and friends would be able to watch him play.
"It had always been a dream for me to play at UCLA and I had always been a Bruin fan. I grew up watching my favorite players like Michael Holton, Rod Foster, and Kenny Fields playing on television."
Coming to the Westwood campus presented a big change for the former Glendora High School star.
"Those were the good old days, I thoroughly enjoyed my three years at UCLA - I had so much fun. I was very shy in high school, but when I came to UCLA it was like walking from a dark room through a door into bright lights. I really learned a lot about myself during college."
One of Murray's most memorable games as a freshman came during the NCAA tournament against No.1 ranked Kansas. With a victory over the Jayhawks, the Bruins would advance to the Sweet 16.
With just nine seconds remaining in the game and the Bruins down by one point, Murray was fouled and went to the line with the chance to win the game.
"It was a high pressure time. I felt it was a big test for me and was going to show what kind of player I was going to be in college." Murray said. "When I went to the line for the first shot I told myself to just knock the shot down, but then Kansas called two consecutive timeouts in an attempt to freeze me. I must admit I was a bit tense after the second time-out, but on the way out of the huddle Trevor (Wilson) came up to me and cracked a little joke which helped loosen me up."
"I went to the line and shot the first one which rattled around the rim for quite awhile before going in and then the second shot went straight through. Trevor pressured the ball all the way down the court and didn't let his player get off a good shot, and we ended up winning the game and advancing."
Murray feels fortunate to have played with so many elite players at UCLA which he feels attributed to his development as a basketball player. Many of his teammates, including Don McLean, Darrick Martin, Ed O'Bannon, Tyus Edney, and Mitchell Butler, went on to play in the NBA.
"Our team practices were very intense, everyone worked hard at practice," he said. "You looked up and down our roster - you had to bring it everyday in practice unless someone was going to take your job."
The Bruins went to the NCAA tournament in each of his three seasons at UCLA. The teams advanced to the Sweet 16 and Elite 8 in two of the seasons but also encountered an embarrassing first round loss to Penn in 1991.
"We were great individual players, and if we had played more as a team we could have had even more success." Murray explains. "We won many of our games on individual effort - whoever was hot at the time, we got him the ball. Individual play was our team's Achilles heel. Of all the players on the team, Gerald Madkins sacrificed his game the most, he was the glue on the team and a tremendous player."
After reaching the Elite Eight in 1991-92, many felt the following season might become a banner year. However to the disappointment of many Bruin faithful , Murray decided after his junior season to declare early for the 1992 NBA draft.
"Sure, sometimes I think about what we could have accomplished if I had come back for my senior season," Murray said. "But I had just finished my second season in a row averaging over 21 points a game and NBA scouts were predicting I might be lottery pick, or middle first-rounder. My life-long dream of playing in the NBA was available to me and I decided to forego my final year at UCLA."
Playing in the NBA
As projected, Murray was selected in the NBA draft by the San Antonio Spurs in the first-round with the 18th pick overall.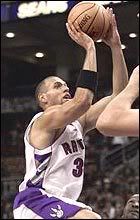 Murray went on to a distinguished 12 year NBA career. While with the Toronto Raptors in 1996, he enjoyed his best season averaging 16.2 points and 4.3 rebounds per game including 42% on three-pointers.
"I will forever be grateful to Isiah Thomas who was the GM for the Raptors at the time." Murray recalled. "Isiah told me he had no money but had minutes and shots - if he hadn't given me the chance then I likely would have been a three year and out player."
In 1995, he earned a World Championship ring with the Houston Rockets and in 1998 he scored 50 points for the Washington Wizards in a victory over the Golden State Warriors.
"We played the Warriors shorthanded that night since both Chris Webber and Juwan Howard were hurt that game," he said. It was just one of those nights when the basket looked as big as the ocean - I could have shot the basketball from behind my back and it would have gone in. Best of all, we won the game."
A Career In Coaching

Now with his playing days behind him, and only 35 years of age, Murray is making plans for his new life, in particular, he has an interest in starting a career in coaching.
"I would like to coach at the collegiate level." Murray said. "I am willing to pay my dues and climb the coaching ranks. I honestly feel that I have much to offer young players due to my experience from playing in the NBA and Europe."
"A weakness I notice among many of our young players today is they lack a basic understanding of the fundamentals of the game," he said. In Europe, teams drill the entire practice and scrimmage only at the end, while in many U.S. high schools, and some colleges, teams just scrimmage the entire practice and never work on the basics of the game."
"The mental aspect of the game is very important," Murray said. "Instead of always looking for just your own shot, you need to understand how to look for your teammates, learn how to draw players to you in order to create scoring opportunities for others."
Murray has gained extensive experience working with young people from a basketball camp he founded when he started his NBA basketball career.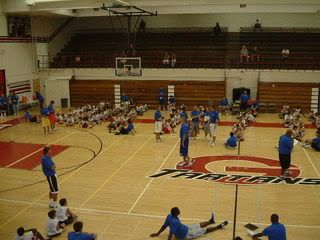 For the last 14 years, Murray and his close-knit family have run the Tracy Murray Youth Basketball Camp on the campus of Glendora High School , his alma mater. The camp focused on teaching basketball fundamentals and sportsmanship to youth in the area.
"In addition to learning the basic fundamentals of the game I spend a tremendous amount of time on the mental aspect of the game." Murray said. "At my camps, kids are taught to have confidence in their game. A player must believe in himself and bring it to the court every time otherwise he will never achieve his goals."
He mentions his own experience and career to illustrate his point.
"My life has almost gone the way I had dreamed it." Murray said. I truly believe if you dream big, then good things will happen for you. As a youngster, my parents taught me that a person had to have confidence in himself and believe he could achieve his dreams, and then put in the extra work and time to make it happen."
For Tracy Murray, after achieving his dream of a successful professional playing career, it's now on to his next one. A dream he will no doubt turn into a reality.
(BruinBasketballReport.com)
(photo credit: ASUCLA, AP and Tracy Murray Camp)