Sherman Moves Wooden Post Office One Step Closer
By Bruin Basketball Report
Congressman Sherman's bill honoring Wooden is sent to White House.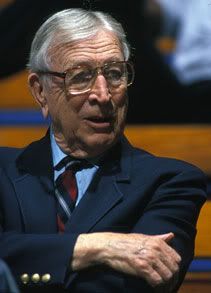 Legislation proposed by
Congressman Brad Sherman
(27th District) to name a post office in the San Fernando Valley for legendary UCLA basketball coach John R. Wooden passed the Senate and was sent to President Bush on Wednesday night for his signature.
The House passed Sherman's bill (H.R.4646) on April 5 and sent it to the Senate.
"We are proud to recognize one of our Valley neighbors, the greatest coach of all time in any sport," Sherman said. "Coach Wooden has been deeply involved in the local Valley community and has inspired young and old."
Wooden, 95, lives in Encino in Sherman's congressional district. The coach's daughter, Nancy Muehlhausen, lives in nearby Reseda, where the post office will be renamed the Coach John Wooden Post Office. (The Encino post office was named in 2002 for Chick Hearn, the late Los Angeles Lakers sportscaster.)
Naming federal buildings is how Congress honors distinguished individuals whose achievements warrant lasting recognition.
Wooden coached the Bruins to a record 10 national titles before he retired in 1975.
A mentor to his players and an inspiring example for all, Wooden shared his insights in numerous books, including The Pyramid of Success and Wooden on Leadership.
"Coach Wooden taught the fundamentals of success on and off the basketball court," said Sherman, who attended UCLA between 1972 and 1975 during the Bruin basketball heyday and saw Wooden lead the team to two national championships, one in the coach's final season.
Wooden played for Purdue University before he became the most successful coach in college basketball history. He is one of only three people enshrined in the Basketball Hall of Fame as both a player and a coach.
(BruinBasketballReport.com)