NABC Names Wooden To Hall of Fame Founding Class
By Bruin Basketball Report
The National Association of Basketball Coaches (
NABC
) announced five of the greatest names in basketball will represent the founding class of the National Collegiate Basketball Hall of Fame in Kansas City.
The five honorees are
John Wooden
, Dean Smith, Oscar Robertson, Bill Russell and James Naismith.
They will stand for more than 100 former players, coaches and contributors currently members of the Naismith Basketball Hall of Fame (Springfield, MA) with strong college roots, who will be automatically included in the new college hall.
Organizers say Kansas City's hall is not meant to compete with the Naismith hall nor with the Women's Basketball Hall of Fame in Knoxville, Tenn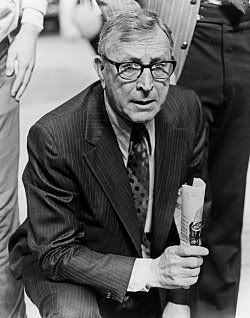 Coach Wooden coached at UCLA from 1948 to 1975 compiling a record of 620-147. (808) and led the Bruins to 10 national championships. As a collegiate basketball player in Indiana, Wooden was a three time All-American at Purdue (1930-32) and was named College Basketball Player of the Year in 1932.
Smith, who led North Carolina to three titles, is the winningest coach in the game's history.
Robertson and Russell won five national player of the year titles between them at Cincinnati and San Francisco.
Naismith invented basketball in the late 1800's while teaching physical education at a YMCA training school in Springfield, MA.
The induction ceremony will be held on November 19th at the Crown Center Exhibit Hall in Kansas City.
In 2007, the college hall induction ceremony will move to the Sprint Center in Kansas City and the honorees will be celebrated in an adjacent building at "The College Basketball Experience". (
for more information
)
(BruinBasketballReport.com)