Howland Expects Former Boss To Make Good Hire
By Curt McKeever
Lincoln Journal Star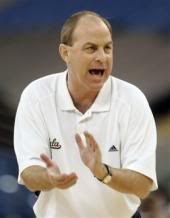 How sure is Ben Howland that buddy and former boss Steve Pederson will reel in a big catch to take over the Nebraska men's basketball program?
"If I didn't have the best job in the world, I'd come work for him there," the UCLA coach said from Los Angeles on Wednesday, the day after the Huskers' vacancy became official. The job opened when Barry Collier, about to start his seventh year as coach, returned to Butler University to become his alma mater's athletic director.
Howland, of course, is the guy Pederson dragged from the hills of Northern Arizona University in 1999 to revive the University of Pittsburgh's program. Four years later, he'd produced back-to-back teams that advanced to the Sweet 16 of the NCAA Tournament, leading to a call from UCLA, which he steered into the 2006 NCAA national championship game.
But to this day, Howland is convinced Pitt fans thought Pederson, now Nebraska's athletic director, had lost his marbles when he announced who was taking over the Panthers' hoops program in 1999.
"A lot of people said 'What are they doing hiring a guy from the West Coast? He doesn't know anybody, he's going to get drilled,'" Howland said. "(Steve's) not afraid of making decisions that aren't always popular. He's very good."
If Nebraska fans are thinking Pederson automatically will go after someone he knows well, they might want to consider that before he hired Howland, the two had never spoken to each other.
"That thing happened all pretty quick. We had a good year, he flew out and met me and my wife and then we went to check out Pittsburgh," Howland said. "He made sure I never saw the (basketball) facility. It was 'Oh, no, they're practicing, you can't go up there.' But he also showed me the plans (for a new arena), said 'This is what we're going to do,' and I believed him.
"Believe me, his phone's ringing off the hook right how. It's a good job in a great league. To me, the most intriguing thing would be the opportunity to work for Steve. And Marc Boehm (the AD who has administrative oversight for basketball), he's great."
Howland acknowledged that Pederson has called to ask about potential candidates, but he's sure he won't be the only one with whom Pederson consults.
"I think he's utilizing all his friendships in the world in athletics, and he has a vast number to drop on. He's been in the Big Ten, Big East, SEC and Big 12," Howland said. "The bottom line is, Steve is an expert in his field and he's going to make the final say. He has a great feel. ... He'll probably interview four or five guys (before making a final decision)."
For the moment, Howland doesn't believe one of those will be UCLA's 35-year-old assistant Kerry Keating, considered to be one of the top recruiters in the country.
"Kerry does a great job (but) I think Steve is going to first look at all head coaches. When you're in a major conference, I would say almost always that's the case," said Howland, who had an assistant, Jamie Dixon, succeed him at Pitt. "Jamie was really unique, and I recommended him."
Boehm made the call on Dixon's hire, which has proven successful, as Pederson had departed for Nebraska.
Now that they're together again, could lightning strike twice?
"Ben's qualities were so obviously great that we were 100 percent gung-ho sold on what could happen, and then Marc made a gusty call," Pederson said. "I think we're going to use the same types of things we used in those searches to try and find the right person here."
But Howland offered there's an attraction to Nebraska that goes beyond the Pederson and Boehm factor. Yes, he sees a land of opportunity, even though the Huskers haven't made an NCAA Tournament since 1998.
"Danny Nee went to five tournaments in 14 years and had some success," Howland said. "They have great fans and a love for the university. And Lincoln's a very nice town."
Oh, really? Howland's been to Lincoln?
"I was there recruiting the big kid," Howland said of Lincoln Southeast graduate Matt Hill, who signed with Texas. "We couldn't get anywhere with him."
He almost made it sound like UCLA had a harder sell with Hill than the job Pederson now faces.
"You've got great facilities," Howland said. "What's nicer about Oklahoma State than Nebraska? Is it because it's closer to Texas?
"The only tough part is the recruiting base ... so you have to get a coach who's a real grinder."
Pederson has set an aggressive goal of having a new coach in place when school starts on Aug. 21.
"I think he'll get it done," Howland said.
(BruinBasketballReport.com)
(photo credit: ASUCLA)