Former Bruin Michael Fey To Play In China
By Bruin Basketball Report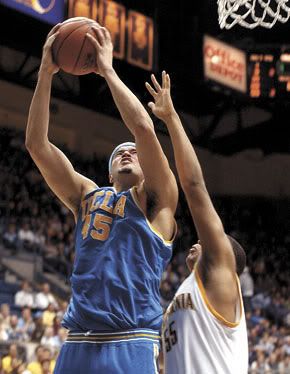 Former UCLA Bruin center Michael Fey was selected in the Chinese Basketball Association 's (CBA) international player draft and has signed a contract to play next season.
Terms of the agreement were not disclosed; however, international players typically sign 7-8 month contracts worth as much as $25,000 per month.
Fey was one of 48 international players chosen in the draft, and was picked in the second-round of the four-round draft.
CBA teams are allowed to carry two international players per team.
The draft followed a weeklong tryout camp hosted by the U.S. Basketball Academy (USBA) at their training facilities in Oregon.
Over 600 players applied to participate in the USBA camp, but only 81 players were actually invited to the tryout camp.
USBA president Bruce O'Neal said this was his organization's third-year hosting the tryout camp.
Participants are mostly American players with major-college experience, with a talent level O'Neil describes as "NBDL, U.S. CBA, and borderline NBA". Tyrone Washington (Mississippi St) was the first overall selection in the draft.
Fey averaged 1.7 points and 1.3 rebounds during an injury-plagued senior season at UCLA in which he played only 18 games averaging 6.3 minutes.
His best season at UCLA was as a junior when he averaged 8.6 point and 4.8 rebounds while shooting 55% from the field. In that season, Fey enjoyed the best collegiate game of his career when he scored 23 points and grabbed 7 rebounds against Oregon St.
The 7'0 center from Olympia WA. played on the Lakers Summer Pro Leage team last month in which he used as an audition and resume-builder in his quest to play overseas.
Congratulations to UCLA Bruin Michael Fey.
(BruinBasketballReport.com)