Bruin Recruiting: Prep News Roundup (8/21)
By Bruin Basketball Report
Prep News Roundup is published every Monday.
Recruits
Both Harden and McMillan will be freshmen in the 2007-08 season. ASU is hoping to end up with a top-10 recruiting class. The Sun Devils' next possibility appears to be
Clint Chapman
, a 6-9 post player from Canby High School in Canby, Ore.
East Valley Tribune
8/16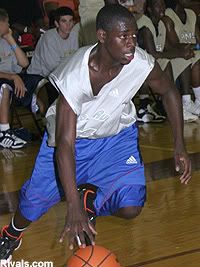 Jrue Holiday
was brilliant in Las Vegas and other summer events. The 6-foot-3 combo guard has a complete offensive attack mixed with natural athletic ability. Holiday has a cerebral approach to the game and a world of potential. Jrue Holiday already possesses a complete game. Jrue Holiday already possesses a complete game."It is Jrue Holiday's pure shooting ability, defensive prowess and explosive athleticism that gives him an edge over Tyreke Evans," Meyer said. "Both players handle and pass well. In fact, Evans gets a slight edge in that department. As combo guards, we feel both project primarily as shooting guards. Holiday's ability to create shots without the ball and with the ball work in his favor. It is astounding that Holiday is such a complete guard prospect as only a rising junior."
Rivals.com
8/16
Phoenix star guard
Jerryd Bayless
is back on Arizona's 2007-08 basketball roster, and this time, he says it's for good. Bayless, a national top-10 prospect from St. Mary's High School, announced Wednesday he has recommitted to the Wildcats after deciding in early June to consider other schools. He originally committed in November 2005. Bayless, who is scheduled to sign a binding letter of intent to attend Arizona, along with four other recruits in November, was unavailable for comment. But he said in a statement released through St. Mary's that the UA staff was "tremendous in supporting me through a very intense time in my young life.'' Often, UA coach Lute Olson no longer recruits players who waver on their commitments. But he kept the door open for Bayless this time.
Arizona Daily Star
8/17
Jeff Withey
, a 7-foot junior from San Diego, tells Rivals.com he will attend KU's Late Night in the Phog on Oct. 13 as part of an unofficial recruiting visit. Roeland Park Miege junior Travis Releford also will be at Late Night. There are rumors that
Derrick Rose
, 6-4 senior from Chicago, likely will choose Memphis over KU, Illinois and others.
Lawrence Journal-World
8/17
The other interesting aspect of Olson's 2007 recruiting is that he technically only has four scholarships to offer, yet he is pursuing a powerful class that may eventually be six players deep. He'll find a way to make room if either
Kyle Singler
, J.J. Hickson or Solomon Alibi wants to sign, too. All three are Top 25 players. The Wildcats are counting on Marcus Williams to leave for the NBA next spring, giving them five fairly firm scholarships to offer, and they figure another player could leave for the pros, too, with a good enough season. Or, with a roster this stacked, there's always a good chance for another transfer.
Arizona Daily Star
8/18
"There's no reason to rush," Bob Babbitt, Luke's father, said recently. "He still has a long time to think about it." What is
Luke Babbitt
looking for in a college? "It's not one specific thing," he said. "I just want to go somewhere where I feel comfortable with the school and the coaching staff." There is one other requirement. "I have to go to a school that has a legitimate chance to win a national championship every year," he said. Since Babbitt is now a junior, college recruiters can visit the Galena campus starting in September. Maurer, though, is determined to keep things at Galena as normal as possible. "We're not going to cater to guys coming in here," Maurer said. "I told the team and Luke understands this. But we have to be a team first and worry about the scouts second. That's the message I had to send to the team. "And Luke is OK with that. He knows that he no longer has to impress anybody. They have to impress him now."
Reno Gazette-Journal
8/19
(BruinBasketballReport.com)
(photo credit: Rivals)