Learning To Take Their Best Shots
By Steve Galluzzo, Sports Editor
Palisadian Post
UCLA Head Coach Ben Howland recently held a basketball camp for boys and girls ages 6-12 at Palisades High School.
[related article: One-on-One with UCLA Coach Ben Howland]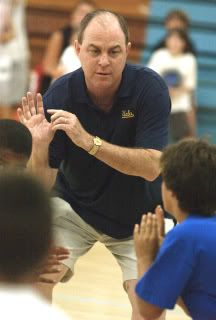 By the end of the week it was hard to tell who was having more fun--UCLA men's basketball coach Ben Howland or the 124 kids invited to his first youth basketball camp at Palisades High.
"It was great," Howland said. "The kids had a lot of fun and I think they learned a lot. That's the most important thing."
Fresh off of leading the Bruins to the national championship game, Howland and his staff instructed boys and girls ages 6-12 on the fundamentals of basketball, using a number of fun drills, demonstrations and scrimmages to teach basic skills like shooting, passing and dribbling. Howland even invited several of his players to demonstrate intricacies of the sport like screening and spacing, ball denial and defensive stance.
"I liked the dribbling drills the most," said six-year-old Charley Wadler, a student at Village School, who played on the Auburn Tigers in the SEC (ages 6-7) division. "I liked the actual games best but everything was fun," said Tennessee Volunteers point guard Scotty Polson, who turns 8 on Saturday. "I've learned to use a follow through on my shot."
Kentucky beat Tennessee by a basket in the finals of the SEC division, with Matthew Nyman of Tennessee earning the most valuable player award. Nyman also won the three-on-three competition with Luke Bennett and Santiago Cortina of Tennessee, Asher Remer of Auburn won the one-on-one competition and the Hot Shot contest, Charlie Thompson of Alabama was named SEC defensive player and Alyssa Rivera of Tennessee won the Best Attitude award.
Among the volunteers who helped Howland and his staff at last week's camp were PaliHi boys head coach James Paleno, PaliHi girls assistant coach Torino Johnson and former PaliHi players Steve McMaryion (Class of 2000) and Isaiah Sago (Class of 1999). Paleno shouldered the burden of coaching UCLA in the Pac-10 division (ages 8-9) while Scott coached the Arizona Wildcats. Johnson piloted the Pacers, Sago mentored the Suns and McMaryion guided the Spurs in the NBA division (ages 10-12).
"I guess I can keep my job," Paleno joked after UCLA came from behind to beat Arizona, 24-22, in Friday afternoon's championship game. "It would've been hard to tell Coach Howland that the Bruins lost. Fortunately, the kids came through for me."
Arizona's Spencer Freedman, Jesus Zambrano and Kerry Calender won the Pac-10 three-on-three tournament. Freedman also won the one-one-one competition and Calender earned the Best Attitude award. UCLA's PJ Hurst won the Hot Shot competition, teammate Jasper Shorr was named Pac-10 most valuable player and Jordan Wong of Cal was chosen best defensive player.
Nine-year-old Charlie Carr, who attends Palisades Elementary, was traded from UCLA to USC on Monday's opening day of camp in order to even out the teams. "I'm the first line of defense--I don't like to shoot," said Carr, whose Trojans lost to UCLA in the semifinals. "I learned how to follow through and how to sweep to get out of the way."
One of the most exciting moments of the camp came on Thursday morning when Bruins' sophomore guard Darren Collison put on a shooting clinic in the PaliHi gym while Howland implored campers to make a lot of noise and "call out the numbers" after each made basket. "A good shooter should be able to make seven out of 10," Howland said. "And it shouldn't matter how loud it is or how many people are watching because you go through the same routine every time."
Collison captivated his young audience with an impressive shooting display, making nine 17-foot jumpers in a row before rimming out his last attempt, after which he received thunderous applause.
"I enjoy doing things like this," said Collison, who was named CIF Player of the Year his senior year at Etiwanda High. "It's all about the kids and everyone's having a good time. I was once in their shoes so I know how important it is to set a good example for them because they are the future of our game."
The Suns beat the Lakers in the finals of the NBA division, with Sam Wasserman of the Suns capturing MVP honors. Kevin Eyler of the Pacers, Zach Tinker of the Spurs and Joe Rosenbaum of the Bulls won the three-on-three competition, Eyler was the one-on-one champ, JoJo Fallas of the Spurs won the Hot Shot contest, Yosef "Scrappy" Washington of the Suns was the best defensive player and the Best Attitude awards went to Cora Chan of the Lakers, Ashley Wu of the Bulls and Jared Haltrecht of the Pacers.
So did Howland see anyone he might like to play for him in the not-too-distant future? "There is definitely a lot of potential out here today," Howland said Friday, a few hours before he was scheduled to fly to Las Vegas on a recruiting trip. "We definitely plan on coming back here next year."
(Photo credit: Rich Schmitt)
[reprinted with permission]
(BruinBasketballReport.com)