Howland and Dorrell Getting Pay Raises
By Brian Dohn
L.A. Daily News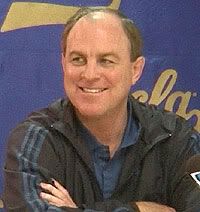 After successful seasons in which UCLA football and men's basketball teams exceeded expectations, the head coaches of both teams are poised to have raises approved today during The Regents of the University of California meeting in San Francisco.
Football coach Karl Dorrell's salary will move from a guaranteed $600,000 to slightly less than $1million per season, if he remains at UCLA for the next six years, sources said.
Ben Howland, who was guaranteed $930,000 last season, will see his guaranteed salary bumped significantly above $1 million annually as men's basketball coach, sources added. Both contracts will also increase the potential incentive earnings of Dorrell and Howland.
"Other than confirming it's on the Regents' agenda, it's not appropriate to comment until after the Regents take action," UCLA spokesperson Marc Dellins said.
In his third season, Howland led UCLA to the national championship game, al- though the Bruins fell to Florida in their bid to win an NCAA-record 12th title. It was quite the turnaround from Howland's first season, when the Bruins finished 11-17.
The Bruins assistant basketball coaches were also told they would be receiving raises, sources said, which is in line with what took place within the football staff.
During the offseason, UCLA athletic director Dan Guerrero increased the total salaries of football's assistant coaches nearly 22 percent.
The salary increases are a change in philosophy from UCLA's long-standing reputation of paying coaches poorly.
Dorrell guided the Bruins to a 10-2 mark, including a defeat of Northwestern in the Sun Bowl, and matched the school record for wins in a season.
Last season he ranked ninth in the Pacific-10 Conference in guaranteed salary. The new deal will move him into the middle of the Pac-10's head coaches.
(reprinted with permission)
(BruinBasketballReport.com)