Interview With Former UCLA Star: Brad Holland
By Ken Wong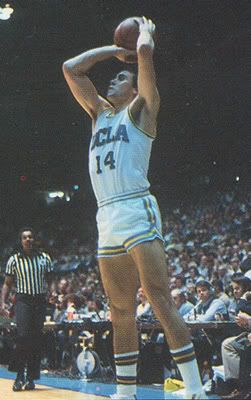 Former UCLA basketball star, Brad Holland ('75-'79) helped lead the Bruins to four NCAA tournament appearances including one Final Four game.

He averaged 17.5 points and 4.8 assists a game as a senior, and set the single-season field goal shooting percentage record (59.6%) for guards in 1979.

Holland was an honorable mention All-American and second-team Academic All-American in his senior year.

The Los Angeles Lakers drafted Holland in 1979 as the 14th player taken in the first round, and went on to win the 1980 NBA championship. He played until 1982 finishing his career with the Washington Bullets and Milwaukee Bucks.

Holland returned to UCLA as an assistant coach under Jim Harrick from 1988 to 1992, and helped lead the Bruins to four NCAA tournament appearances.

After his success as an assistant coach at UCLA, he was named head coach at Cal State Fullerton in 1992 and helped guide the Titans to their first winning record in four years during his first year at the helm.

Holland recently completed his 12th season as head coach of the University of San Diego (USD) Toreros. He is the school's winningest basketball coach with 182 victories. He helped lead the Toreros to their first NCAA tournament in 2003 in sixteen years. He was named West Coast Conference (WCC) Coach of the Year in 1999 and 2000 and by CollegeInsider.com as WCC Coach of the Year in 2005.

The former Bruin great recently sat down with Bruin Basketball Report (BBR) for an in-depth telephone interview.

BBR
: As a senior at Crescenta Valley High School in 1975, you averaged 34.9 points per game including two contests in which you scored over 50 points. You were one of the most highly sought after prep stars in your recruitment year. What made you decide to commit to play at UCLA?
Holland
: "I was blessed to be recruited by some great programs such as Indiana and North Carolina, and although I entertained offers from other schools, UCLA was way ahead in my recruitment from the beginning. I was an L.A. kid and my Dad took me to many UCLA games. Just as importantly, I had a long-standing relationship with the UCLA assistant coaches, Frank Arnold and Gary Cunningham, who began recruiting me when I was in the ninth grade."
BBR
: You have the distinction of being the last player ever signed to a scholarship by Coach John Wooden. It was well known Coach Wooden rarely, if ever, watched his recruits play their high school basketball games in person. Tell us how it felt to be recruited by the legendary coach?
Holland
: "John Wooden actually watched me play in a CIF playoff game during my senior year. What an honor it was to have him there. I was warming up before the game when my Dad came over to tell me Coach Wooden was entering the gym. It was like Moses walking in the building - the place got real quiet and the crowd parted for him as he walked to his seat. I truly feel a large reason why Coach Wooden did not go to many high school basketball games during those days was because of all the attention he drew to himself at the venue. He's a very humble man."
BBR
: How did you play in the game with Coach Wooden watching from the stands?
Holland
: "I was able to settle in after all the excitement and actually played well. Our team won the game, I scored 35 points and hit the game-winning shot."
BBR
: Coach Wooden retired after the 1975 NCAA championship game and thus you never had the opportunity to play for him. How difficult was it for you, a young prep star, to deal with this situation?
Holland
: "I was frustrated and very disappointed when I learned I was not going to play for Coach Wooden; yet ironically, it was Coach Wooden who helped keep me at UCLA after my sophomore season. I had started in only seven games as a freshman and eleven as a sophomore - it was well known that I was not happy with my playing time. Coach Wooden wrote me a letter after the season which I still have and keep in a special place. He knew I wasn't happy with my role on the team but he wrote in his letter it was a matter of me gaining confidence in my play and staying motivated. His letter meant much to me and set me back on the right course."
BBR
: Do you keep in contact with Coach Wooden?
Holland
: "Yes, I talk to him regularly and cherish every moment I spend with him. I have brought my coaching staff to meet him at his home. Last November, we honored Coach at our 'Sixth Man Night' for his many contributions to basketball."
BBR
: You had the opportunity to play for two outstanding coaches at UCLA in Gene Bartow and Gary Cunningham. Under their leadership, the Bruins won four Pac-10 championships, reached one Final Four, and finished 102-17 over four seasons. However, both coaches were under intense scrutiny at the time by the media and alumni as a result of following in the immediate footsteps of Coach Wooden. How was it as a young basketball player to play under such circumstances? How much pressure did you feel to help uphold the UCLA championship tradition?
Holland
: "The expectations placed upon the coaches were unfair but it was reality. Unfortunately the pressure filtered down from the coaches to the players at times. David [Greenwood], Roy [Hamilton], and I laugh about it now, but we were looked upon as a 'losing class' because we were the first UCLA recruiting class in a long time to not win a national championship."
BBR
: Coach Wooden was certainly a tough act to follow. Yet, it's interesting how time puts events into their proper historical perspective. I imagine any college basketball program, including the present one at UCLA, would look back at your team's impressive accomplishments with envy.
BBR
: Your UCLA teams advanced to the NCAA tournament in each of your four years as a player, including a 1976 Final Four semifinal game against Indiana. You had an outstanding individual effort in 1979 when you averaged 18.3 points during the tournament. What was your most memorable NCAA tournament experience?
Holland
: "In my sophomore year, we met Louisville in the first round of the NCAA tournament. Louisville, of course was coached by ex-Bruin player/coach Denny Crum and were led by a great freshman player, Darrell Griffith. I had played sparingly during the regular season and didn't think I was going to play in this game. But after not playing in the first half, Coach Bartow put me in with just 13 minutes left in the game. I hit my first shot in the game and kept going. I finished with 16 points and did a good defensive job on Griffith - we won the game going away. I was named NBC Player of the Game. I can still remember the tremendous feeling I had as I walked off the floor after our victory."
BBR
: The incoming 1976 Bruin recruiting class which included yourself, Greenwood, and Hamilton was an extraordinarily talented group.
Holland
: "Yes, it was a strong class, three of us went in the first-round of the NBA draft after our senior seasons. There was a fourth player in our recruiting class, Chris Lippert, who was an excellent ball player and an L.A. City Player of the Year , but he never got a chance to play regularly at UCLA."
BBR
: After an outstanding senior campaign at UCLA in which you averaged 17.5 points a game, you were selected by the Los Angeles Lakers as the 14th pick in the NBA draft. You'd be considered a 'lottery pick' in today's draft nomenclature.
Holland
: "I will forever be the answer of a trivia question – 'In the year the Lakers drafted Magic Johnson first overall, what was the name of the other guy they picked in the first round.' On draft day, I remember waiting at home in my one bedroom apartment for the telephone call from an NBA team. San Antonio and Philadelphia had shown the most interest in me, but when I got the call and heard Jerry West and Bill Sharman on the other end of the line, I thought 'Wow, I get to stay home.' Jerry West was my favorite player growing up in the area and it was just amazing that he was telling me that I had just been drafted by the Lakers. I had the opportunity to play with a young Magic Johnson and a basketball great Kareem Abdul-Jabbar, and be part of a team that revitalized Lakers basketball. It's what you dream about doing as a kid."
BBR
: Although you did not win an NCAA title during your collegiate career at UCLA, ironically, you won an NBA title in your rookie season with the Los Angeles Lakers in 1980. You scored eight points in the decisive game 6 against the Philadelphia 76ers. What were some of your memorable moments from this game?
Holland
: "I knew I was going to play in Game 6 since Kareem had badly injured his ankle the game earlier - Paul Westhead told me I was going to play some minutes. Our team had the perfect attitude going into the game. We felt Philadelphia had all the pressure on them, which allowed us to play loose and get after them. It was great to close them out at Philadelphia. What a feeling it was to watch the clock wind down knowing you were about to become world champions."
BBR
: Do you follow the progress of the UCLA basketball program? What are your impressions of the team, the coaching?
Holland
: "I have great pride in being a Bruin. I thought Ben Howland was a great hire. I first met him when he was an assistant coach at UC Santa Barbara. He is a savvy coach and has made a huge impact on the UCLA basketball program. His players have bought into his system based upon the importance of defense and rebounding. I attended the Final Four championship game at the RCA dome with my 13 year old son. It was a treat to root for the team along with the other UCLA alumni."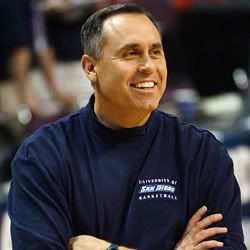 BBR
: Congratulations on a successful 2005-06 campaign which marked your 12th season as head coach at USD. Your team finished with the second best overall record in the WCC and almost eliminated Gonzaga in a thrilling semifinal game in the WCC tournament. Both Nick Lewis and Corey Belser had terrific senior seasons. What are your expectations for next year's squad?
Holland
: "We want to make the NCAA tournament every year. Nick and Corey had outstanding careers at USD – Corey is a great defensive player, he shut down Adam Morrison in every game we played against Gonzaga this season. We have six of our top eight scorers returning to the team, and played four freshmen extensively last season. I feel very good about our team's future."
BBR
: Brad, thanks for taking the time for this interview.
(BruinBasketballReport.com)
(photo credit: ASUCLA and CollegeInsider)