Run to Final Seen as Recruiting Key
By Steve Springer
Los Angeles Times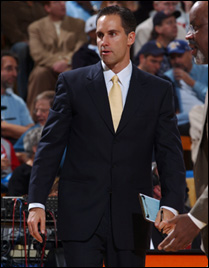 Kerry Keating went back to work Tuesday.
It's not as if he's been loafing. As an assistant coach at UCLA, Keating, Coach Ben Howland and the rest of the assistants have gone through the rigors of the longest season in school history, a record 39 games, a school-record-tying 32 victories and a berth in the NCAA championship game, which the Bruins lost to Florida on Monday night.
But that's already ancient history.
The 34-year-old Keating, named among the top recruiters in the nation by various publications, hit the ground running Tuesday upon returning from the Final Four in Indianapolis, working the phones in pursuit of the Bruins of the future.
UCLA's future looks bright. This was a team top-heavy in freshmen and sophomores, none of whom appear ready to consider the NBA, because of age limitation or stage of development.
"It was a long road for us," Keating said, "but I think, because of our success, we have already accomplished a lot in terms of recruiting. We've been selling this program for the last three years, saying that we are going to be playing for national championships. This gives us a little more validity, this was a pretty powerful thing. Now they believe you because they've seen it. It can only help."
So can the fact that a relatively young team experienced the pressure cooker of the NCAA tournament and all the distractions and expectations that go along with it.
Although most of this season's players will be back, there are two large pairs of shoes to fill, those of seniors Cedric Bozeman and Ryan Hollins.
The Bruins hope Bozeman's successor is already in uniform.
Sophomore Josh Shipp would have been starting at wing/small forward had he not required hip surgery last summer.
Enter Bozeman, who proved a more than able fill-in, excelling at the position in Shipp's absence until Bozeman himself went out because of a shoulder injury.
Enter Shipp, who played four games but then opted to sit out the rest of the season because of continuing pain from surgery.
Reenter Bozeman, who came back a few games later and finished up playing possibly the best basketball of his UCLA career.
Shipp was back at practice with teammates as the season wore on, taking a limited but steady role that enabled him to test the hip, keep in shape and maintain his rhythm.
At center, replacing Hollins, who also finished up his years in Westwood at peak efficiency, may not be as simple. Sophomore Lorenzo Mata showed flashes of excellence but was inconsistent in an injury-marred season. Freshman center Ryan Wright showed he was still far down on the learning curve.
Freshman Alfred Aboya, who had been penciled in at power forward before undergoing arthroscopic surgery on both knees before the start of the season, never seemed to catch up. But despite standing only 6-8, his aggressiveness and athleticism may enable him to eventually play center.
The Bruins have signed two big men to letters of intent, but both are natural forwards. James Keefe is a 6-8, 220-pound McDonald's All-American from Santa Margarita Catholic High School. Marko Spica is a 6-9, 225-pounder from Belgrade, Serbia and Montenegro. Spica, however, has not satisfied his academic requirements.
Keating expects that when he, Howland and others on the staff step up their recruiting, they will find an even more receptive audience than they have in the past. Suddenly, it's not just a prediction that the Bruins will return to the national stage they once owned, it's reality.
"This certainly makes for a better conversation," Keating said. "We definitely have something to talk to the kids about."
One objection Keating does not expect to hear from potential recruits is that the Bruins focus too much on defense. Yes, kids want to run and dunk and see their highlights on "SportsCenter." But, Keating insists, it is not their priority.
"I don't think our image will hurt us at all," he said. "I have not encountered any negativity. One player told me, 'You know why I like your team. Because you play good defense.' Kids don't get turned off by winning."
(reprinted with permission)
(BruinBasketballReport.com)
(photo credit: uclabruins.com)